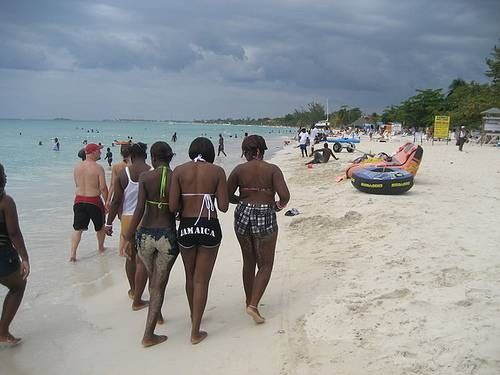 Since I've moved to Kingston/Portmore, Labour day seems to be closely associated with the word "beach". I remember when I lived in the country you couldn't even sleep past 6 o'clock. They put the actual "labour" into to labour day. Now I'm as lazy as the common Joe, mostly because I'm a old man and I'm conserving my fat reserves for the winter. But back in the day "when I was a boy", no rock was left un-white-washed or lime-stoned, (whatever they call that white powdered paint). The multiple little projects and the streets in the my community would be "spic and pan" (clean) by lunch time which was important because man caan work without food.
I guess times have changed. Its hard to organize anything in communities like Portmore when the people who live there are like duppy at a nine-night. Even the movie theatre closed 2 years ago - THE ONLY movie theater. But I guess people got to hustle the money. I imagine that the design of the "quads", adds to the whole lack of "community spirit". When you can see two neighbors but only hear the other two through the walls at late hours of the night building furniture, taking it apart or whatever construction them doing.
Back in the country where we used to have 20 to 30 families living in a circle on the side of hills. I remember one time when the entire community gathered to watch me bath in the back yard, time of my life. Flash forward several years later when people live, like rows of corn and a community has a 100 families living and working at all hours, it would be pretty hard to organize anything, much less build a air of trust and camaraderie with each other. There are are small groups here and there, I not even going to mention church people, thats a whole other post. Times change, people change, money changes, maybe we need a "Labour Week" to get things organized. We have the key in or hands all we have to do is find the lock. Off to the beach!
permanent link. Find similar posts in Blog Jamaica.