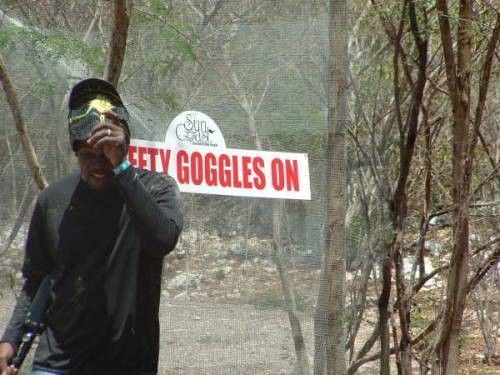 In the format of a list for easy reading;

The taller you are the more shots you get in the face.
They make you sign a pre-nup before you can play.
It really only hurts after the first 2 times. After that you don't even feel the pain.
Most women will always camp out for as long as you have ammo in your gun, leading to waiting in vain or loss of load.
You are not too young to get shot in the ass.
Super low jeans will result in lots of ass out a door.
Bring your own juice and food, cause there is nothing there but hot dogs and expensive bottled liquids.
If you shoot the judge you'll have to strip.
The guns have plastic caps that will fly open if you shake the gun or hold it upside down. If your paint pellets fall out, dog nyam you supper because dem not going to let you put them back into the gun.
Apparently small teams of 5 versus 5 is better than big teams. People tend to hide more when there are alot of gunners. I'm not fond of hiders and campers. Dam you all.
People who hold the paintguns up in the air will tend to lose there balls or come on themselves.
The air cans on the guns make them heavy. My wrist is killing me.
The place is really not that far from Kingston. Its a 15 minute drive.
The water paint dries quickly, you may want to wear old clothes.
You get to spent more time if you go in the off season when everybody isn't on holiday. When people are waiting they'll want you off the course as quickly as possible.
One hour is a really, really short time, especially when certain people come late.
Overall it was a good time, well worth the money for the initial go, not sure about the cost for refills or loss of load.
We'd like to thank the women on the other team for the post game entertainment.
Next time we could try some one on one, lol. Just to settle any outstanding grudges.
permanent link. Find similar posts in Blog Jamaica.