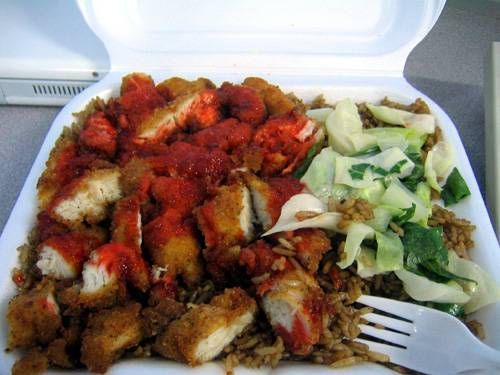 Today, and at random times for the past month, for lunch I had "chicken-steak" from a chinese food place called Orchid Garden. Located somewhere near half-way-tree - I'm not sure where exactly becuase an intern or somebody else usually gets it. I always order Chicken-steak (dispite protests) because I'm not one experiment with my asian food.
Chicken-steak is spongy and comes accompanied by friend rice and cabage. Recently I have been having doubts as to whether it is really chicken or worst yet steak. Because chicken normal is not all that spongy. I found a bone in it once in the 8 or more times. It may take a couple more weeks before I figure it out exactly. Sweet and Sour chicken is played out.
permanent link. Find similar posts in Food and Eats.