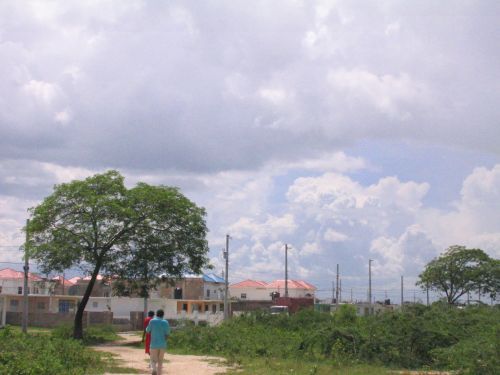 The sky is clear - the sun is hot. Probably hotter than ever (or maybe I've never been outside at mid-day) it's a bueatiful day. A couple hours before hurricane Ivan hits jamaica. The country is currently being locked down, the stores are over crowded and traffic is heavy. It's so crowded that people might get trapped at the supermarket - not that it would be bad. If you think about it, it might not be a bad place to be - unlimited food, magazines, and fresh bottled water. Anyway, the most powerfull hurricane in 15 years or since my rain post - is about to hit Jamaica. ETA Thursday September 09, 2004 just about 10 hours or less from now. The photo is from St. Catherine, Jamaica. In about 2 hours from the time I post this, public electricity might be disconnected, most business will be closed and the looting might begin. In either case it's expected to be "devastating".
Hopefully I'll be back on monday, stay dry, and walk good.
permanent link. Find similar posts in The random photo journal.