written by owen, published 2004-Jun-10, comment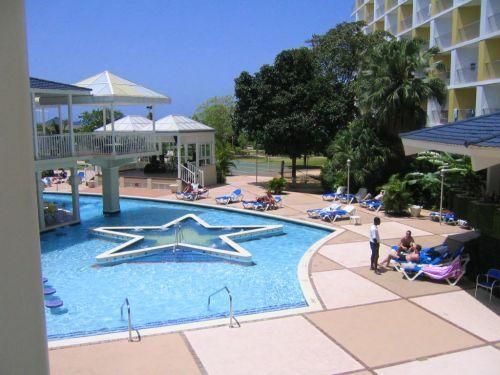 Falmouth, on the North Coast of Jamaica, Between Montego Bay and Ocho Rios. 23 miles east of montego Bay airport or 35 minute drive.
Starfish trelawny is located on a long strtch of white sand beach, nestled against luch green mountains and turquoise Carribean Sea. This well established all - inclusive resort is ideal for families seeking comfortable, well-equiped accommodations with a wide range of amenities. Adults and children alike can take advantage of the many activites during the day and nightly evening entertainment. Sports entusiasts enjoy a wide varity of both land and water sports
They gave everybody a fact sheet with much more information that I could possibly ever type in one siting. Probably I should have asked her to email me a soft copy.
Wasn't the best resort but hey they have a water slide. You know your at a crappy resort when the sliding doors don't work. But I wasn't about to let that get me down. There was much fun to be had outside with the foreign women and white girls. Or so I thought until I got to the arcade with a rum and coke in hand - to my surprise you had to pay for all the arcade games. Which in fact were like three years old (but that's not the point). The point is that in an all inclusive hotel where you can drink as much liquor and soda as you want. But you have to pay for video games! What is the world coming to?
There was the beach, 3 jacuzzis, all you can eat cafeteria and pool tables in the pool. Which I kept referring to as "water-poolo". Water slides plus an all you can drink bar filled with cheap vodka and more bottles than you can count but I wouldn't know the difference between cheap vodka and sprite. There was a bar in the hotel lobby, in the pool and by the water slide. Plus in case you've escaped to your room, there behind a clear glass shelf are 4 bottles, inverted and connected to a dispenser.
The whole arcade thing didn't get me down though, I could always play video games when I got home (chad?) but what urked me the most was the fact that you had to pay for every other activity that didn't involve eating, drinking, the pool or the self motivated sports (such as basketball ball, synthetic ice hocket, water-poolo, pool volley ball or mini golf) which weren't my cup a tea or glass of vodka in my case.
All is not lost, thought the key to the jet ski was. Yes it's totally my fault but the guide said that he'd come back he next day and look for it - as impossible as it may seem. I drank so much salt water so I don't even know where I lost it, but he'll find it, he's the expert. Luckily we were leaving that day and I didn't get to pay for any damages because I KNOW HES NOT GOING TO FIND IT unless he has a metal detector or a diving team. But alls well that ends with you still being alive and not in pain. More pictures in the jamaica photo project.