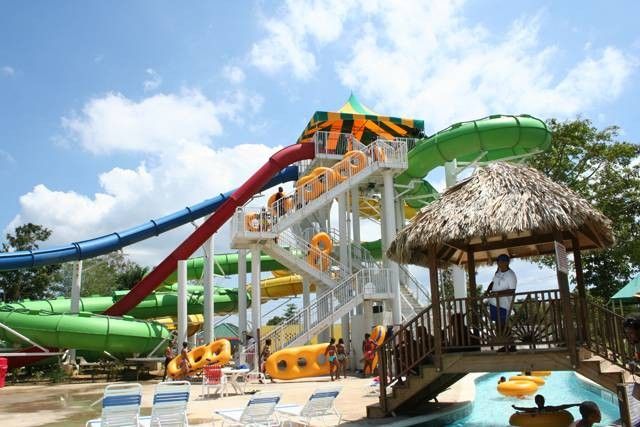 So the department headed out early-ish in the morning estimating that we would reach there at about 11am driving from Kingston. Such was not the case. Driving south coast from Kingston to Negril will take you between 3 to 4 hours. And not to mention the driver being paranoid about his new rims while dodging the relentless onslaught of tiny little random potholes. I was co-piloting like we were driving in a world class rally. Not to mention trucks, OMG trucks were everywhere. And people wonder why I detest going to the country.
Anyway so we get there and proceed to start a new parking line across the street.
Make sure you have a big breakfast if your heading from Kingston cause the ticket inclusive group food which is limited to burger-fries or chicken-rice-peas may take a while to prepare. Luckily you can buy other food on the compound but expect lines if you get there late. We got there about 1:30 pm, missing all the races in German that day and hungry as hell. Added to the fact that we had to wait outside until our group bands were sorted out.
The rides
Clearly the only reason to go to a water park are the slides. So if your afraid of hieghts or gravity then you may feel a bit bored. They have 2 towers with 3 slides each. The slides on Tower 1 allows you to ride alone in a single tube or take two or three of your friends in a double or triple tube ( I know that sounds naught but keep you mind out of the gutter water). Kool Runnings Water Park is like the beach, but without the annoying sand and salt water.Hauling the tube up tower 1 means there is almost always a long line. On the other hand Tower 2 offers faster slides and have shorter lines but you can't user to tubes.
Then you have the lazy river which I enjoyed the most because there are no lines, no water up the nose or no near drowning situation to worry about. All you is wait until a tube comes around, you sit in it and the current of the river carries you around and around in a circle, under brigdes and through a section of the park. No hassle or waiting.
There is also a interactive play area for the kids, a Go-Kart track, Anancy Village(mini zoo) and a swamp thing for an additional cost but I missed them because they were on a whole OTHER side of the water park.
Conclusion
The trip was well worth it. Despite the long winding drive back to Kingston, the leaks on a couple sections of the water park and the limited food selection. There are lots of chairs and tables to put your stuff on (which is always a plus) and life guards with whistles. I say its worth 1 or 2 trips for people who like slides and water. For more info check out koolrunnings.com Negril.
permanent link. Find similar posts in The Jamaica photo project.