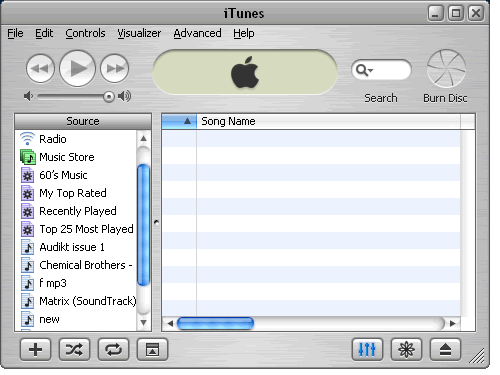 Finally windows users like myself get a taste of iTunes for windows. The apple iTunes media player (although slow loading) is better than winamp 3. The interface is simple and intuitive. It takes a short period in order to figure out where the actual playlist is situated in the media played. At which point the user begin to realise that iTunes is not a windows program at all, not like any other piece of software on windows.
The software
iTunes plays mp3s which is what most people really care about. It doesn't play video and doesn't have skin support. But these are features that will not be missed once you start using it. Each user profile on W2k and WXP has their own playlist , library and media directory. It is also Restricted user safe. (if you don't know what that means don't worry about it). Delete a file it goes to the recycle bin.
The Interface
After you install it and get it running you instantly notice that there isn't a stop nor pause button. Which may seem illogical at first but eventually you'll figure out why you don't need them. The interface has the metalic look as the Quick time media player and you won't be able to change. It looks basically like the apple OSX version and like Quicktime except with blue scroll bars and pretty buttons.
The Library
The media library is set up pretty much like the Winamp media library with the expection of the Keep iTunes Music Folder organized option (default). Which when selected; automatically re-organises your mp3s into folders based on the ID3 meta tags in the files. Note: Donot change you "iTunes music folder Location" to where you presently have your mp3s! It will move then around and create folders for each artist! This might seem to be a bad thing now but eventually you see how well it works. Also it is smart enough to only organize files that are within the iTunes music folder Location.
At the onset it's best to create a new folder on your root directory and point athe folder location to that directory. Remember also to login in as all the other users of the machine and edit there settings as well because by default iTunes will keep separate media folders for each user! Also because of this you'll have to update each user's library.
The ID3 tag editor
Though simple is very power when combined with the Keep iTunes Music Folder organized option. Which automatically re-names and re-arranges your files by artist and album. You might notice that this becomes a problem when you have compilations with various artists on a single CD. To solve this problem select all the tracks, right click and select "Get Info", check the "part of a compilation". This will put the album into a compilations folder instead of creating tons of folders for each are artist whom may only have one song (it is important that you remember this step). Luckly if you didn't do this step and the tons of folders were created all you have to do is find the files in the library, edit the all again and iTunes will magically move then to where they are supposte to be and delete the empty folders. Note also that if there are other files it the mp3 directories - it won't delete the folder. So having files other than mp3s in you folders could create a rather messy situation.
The bad
I haven't found anything overly bad yet. Though it does not have voice record and the visualizer sucks. Well if you disable frame rate capping (T) it is not as bad to look at. Also there seems to be no way to mass remove dead file references from the library(well you can clear the library and add the files again). No dynamic ID3 tag support and no long text field.
Overall Rating
I give it a 8. iTunes rocks, download it now. iTunes for windows
permanent link. Find similar posts in Articles.